Nicaragua in Central America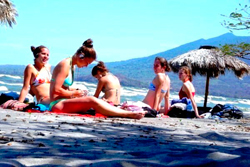 Nicaragua is the largest country in Central America, with a population of about five million and a land area of 130,700 squared kilometers. It is situated between Honduras to the north, and Costa Rica to the south. The country has access to the Atlantic Ocean to the East, and the Pacific Ocean to the West. Nicaragua has been blessed by nature for having the biggest amount of active and dormant volcanoes, fresh water lakes, untouched forests and crater lakes in the whole region.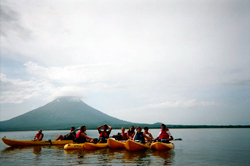 After decades of political military conflicts, peace was finally established in 1990, giving the country a new perspective regarding economics and also positive image to the world. Since then, Nicaragua has been gaining a good reputation for being a stable, democratic and a safe country for investors and tourists. Since 1990 thousands of travelers from many countries have visited Nicaragua and have enjoyed not only the climate of peace, reconciliation and safeness but the beautiful yet undiscovered cities and sandy tropical beaches this Central American country offers. The new pluralist way of government and the free presidential elections system that takes place regularly warranties the country stability for each period of government. Its rich history, friendly, simple and hospitable people, colonial cities, indigenous culture, volcanoes, lakes, exotic islands and unspoiled sandy beaches have turned the country, in the last decade, into one of the hottest, safest and most exciting Central American destinations.


The country offers the visitors a wide variety of locations to experience such as the green mountains and coffee farms in the northern provinces; beautiful beaches and colonial cities on the Pacific, fantastic archipelagos and islands found within the Big Lake Cocibolca and to the south, peaceful rivers and virgin jungles on the Atlantic region as well as exotic islands on the Caribbean Sea. The Islas del Maíz known as Corn Islands are a great paradise of the Nicaraguan Caribbean. Nicaragua is a country with great biodiversity, an incredible multilingual, multicultural and multiethnic population, and a great vocation for poetry, traditional music and literature.

CLIMATE in Nicaragua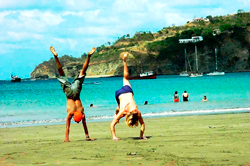 Nicaragua
has a tropical climate which is characterized by two defined seasons: The rainy season which starts in May and ends in November and the dry season that usually ranges from December to April. Average temperatures range from lows of 77 to highs of 104 degrees Fahrenheit. The coolest temperatures are experienced between November and February especially in the mountainous northern towns.
Nicaragua CURRENCY
The official Nicaraguan currency is Córdoba. Even Córdoba is the national currency; US dollars are widely accepted as a method of payment if in small bills. The exception is small rural communities and smaller non-tourist towns where dollars are not often seen. Some hotels and all of the Spanish language schools in tourist cities have their prices in dollars and accept dollars as payment in their business. Dollars and traveler's checks can be changed into córdobas in banks where passports are required. Credits cards are accepted in almost every shop, hotel or restaurant in the bigger cities. ATM machines are available in most of these cities as well.
INTERNATIONAL FLIGHTS AND COACHES to Nicaragua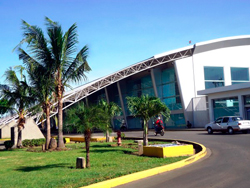 American Airlines, United Airlines, Delta, Continental, Spirit Airlines, Iberia through TACA Airlines, Blue Panorama, COPA and TACA are some of the international airline companies that have regular flights to Sandino International Airport in Managua. If you are in Costa Rica you can travel overland to Granada, Nicaragua directly by taking the international buses Ticabus www.ticabus.com Phones: 2223-8680, 2221-0006, 2222-7226 or TransNica www.transnica.com Phones: 2223-4242, 2223-4123 both from San José, Costa Rica. TicaBus or TransNica bus can also be taken in Liberia, Guanacaste. Both transportation companies have stops and branch offices in Granada downtown.