Islets boat tour in Cocibolca Lake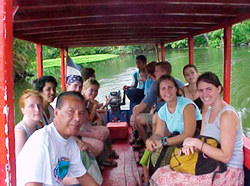 Lovely boat tour in Lake Cocibolca known as the Big Lake of Nicaragua. Las Isletas is a paradisiacal archipelago made of more than three hundred small islands and offers beautiful peaceful views to the visitors.



---

Horse carriage tour in historic downtown Granada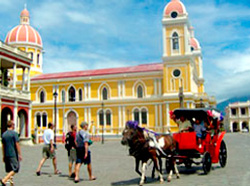 This horse carriage tour around the old downtown in Granada city, known as the Great Sultan will take you back in time; you will easily have the feeling of traveling to the past by using this old way of transportation. The tour includes riding through old historic and famous city streets where you will appreciate the majestic colonial architecture of old houses and buildings.

---

Visit to Granada local market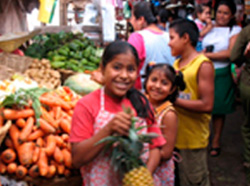 The local market is not a beautiful place but it turns to be an interesting visit to observe the dealers behavior, the conditions they work, their gestures and expressions used to offer their products and call clients' attention, how hard Nicaraguans work, especially women. Lots of fresh vegetables and fruits brought from nearby villages can be seen and bought here.
---

Visit to local cigar factory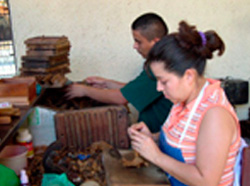 An interesting visit to one of the cigar factories in the city. A good opportunity to talk and interact with the factory workers and observe the Nicaraguan hand-made cigar production process.


---

Excursion to Laguna de Apoyo Nature Reserve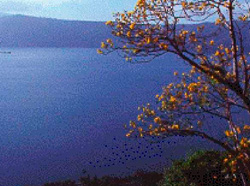 Laguna de Apoyo is a nature reserve situated at 15 kilometers from Granada city. This pristine fresh crater water lake is the perfect place for swimming, snorkeling, diving, walking, enjoying thermal waters and relaxing. Orchids and numerous species of wild flowers and trees are part of the flora of Laguna de Apoyo. Spectacular views and the possibility -if time and weather conditions permit- to see howler monkeys, white-faced monkeys, toucans, squirrels, the beautiful exotic blued Morpho butterfly and other animals.
---

Catholic churches tour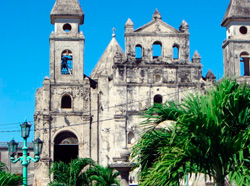 An interesting visit to the catholic temples in the city to observe the architecture and the traditions of the religious people in the city.
---

Diriomo, one of "Los Pueblos Brujos"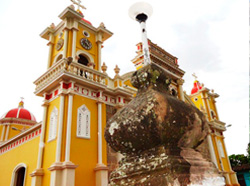 Diriomo is one of these many peaceful towns located in the province of Granada and not far from the colonial city. These towns are known culturally as the "pueblos brujos" (witch towns) because in ancient times their inhabitants used to cure their sicknesses using herbs. Since then Diriomo has been home of numerous tarot readers and Curanderos, a type of healer that assist people that still believe in that kind of esoteric magic power. Diriomo has a big religious celebration on the second of February to celebrate Virgin de Candelaria. Located close to Diriá, Diriomo is famous because of the Cajetas, a kind of sweet made from fruit seeds and milk. Delicious rosquillas can be also bought in this town.
---
Excursion to Masaya city and handy-craft market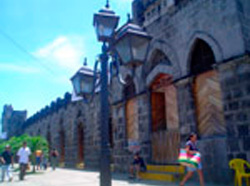 Masaya is the capital of the Nicaraguan handy crafts and folklore. A visit to this predominant indigenous city includes a tour to hammocks workshops and the Old Market known as Mercado de Artesanías (Handicrafts Market). The old market is an old restored building which in the past decades hosted grocery, vegetable and fruit vendors.
---

Excursion to Masaya Active Volcano National Park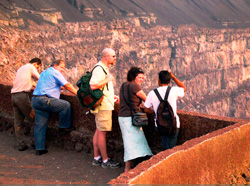 The Masaya Volcano National Park is located a few kilometers from Masaya city and half an hour distance from our host city Granada. The Park has a very special flora inhabited by varied wild animals. There are long caverns that are home to lots of bats; in the volcano crater walls lot of small pretty colored parrots have their nests.
---
Visit to the Old Railroad Station in Granada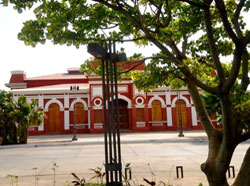 Right at the beginning of Calle Atravesada, one of the historic Streets in Granada and right across from the Parque de los Poetas, remains alive  a historic beautiful old building recently restored. This is the old railroad station whose construction started in 1882 and was finished in 1886, that is the year when the first train arrives at this train station in old Granada. When the U.S. Marines occupied Nicaragua, it was remodeled by them in 1912. The building architecture has a neoclassical style, with a strong English and French influence. The old train station was restored with the cooperation of the International Cooperation Agency from Spain and at the present this building hosts a technical vocational school but there is still some old train equipment and the old Presidential train carriage in permanent exhibition.
---
Visit to the Park of the Poets in Granada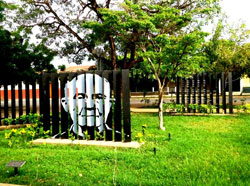 Known mostly as Parque Sandino, this park in Granada at present time it is a nice place where children are brought by their parents to play at sunset. It is located across from the Vieja Estación del Ferrocarril de Nicaragua. The park was built in 1939 and it has been remodeled many times through all these years. It was restored and renewed in the year 2005 and renamed as Parque de los Poetas in memorial of great Nicaraguan poets. The first International Poetry Festival of Granada took place in 2005 and the local city hall authorized this change. Every year for each poetry festival, a new sculpture of a poet is placed in the park. The park was restored last again in 2013.
---

Excursion to Mombacho Volcano Nature Reserve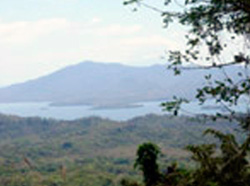 Interesting excursion to the summit of Mombacho Volcano, a rain forest reserve. The excursion is done by truck from the station down to the biological station on the summit. Once up there a tour around the crater is to be done by walking. Wild animals can be seen according to weather conditions.



---
Nindirí town
Nindirí is a small town situated in the province of Masaya at a few kilometers from Masaya downtown and very close to Laguna de Masaya. Nindiri central park is the place where people get together in town and meet in the nice kiosko. There is an interesting and small archeological museum in town founded in 1910. The pieces shown in the museum date back to 1200-1500 A.C.
---

El Diriá, one of "Los Pueblos Brujos"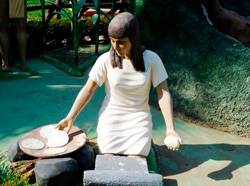 Diriá is another of the five peaceful towns located in the province of Granada at just half an hour from downtown Granada. This folkloric town is also part of the "pueblos brujos" (witch towns) because their inhabitants used herbs to cure their sicknesses in ancient times. The town has an interesting and colorful park decorated with statues of indigenous people that illustrate the traditions and culture of ancient tribes that used to live in these lands. There is also a beautiful lookout known as El Boquete from where Laguna de Apoyo can be seen. La Pila, located very close to the lookout, is an old water reservoir where ancient people from Diriá and Diriomo used to walk long distances for laundry, as water in the very few wells in town was used only for drinking. On May thirteen, Diriá has a small and colorful carnival to celebrate the Virgen de Fátima.
---

Canopy Tour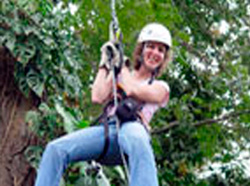 Travel by cables on top of the trees and enjoy this exciting guided tour in the forest of Mombacho Volcano.




---

Excursion to the Pacific Ocean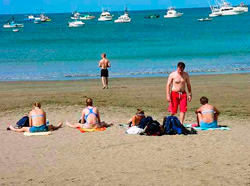 Day visits to a surprise beach destination on the Pacific coast to enjoy swimming and sunbathing. Interaction with local people and fishermen.

---
Day tour to historic sites in Managua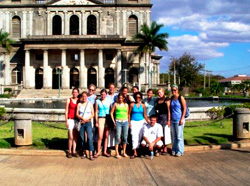 An interesting day guided tour to historic sites in Managua. Vibrant, busy and the center of all politic actions in the country.
---
San Juan de Oriente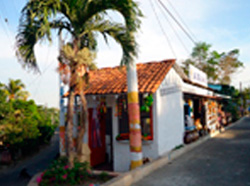 Artisans, pottery makers, laborious people! This is San Juan de Oriente, located in the province of Masaya. Most of the people here have their own ceramic workshop in their homes as their own family business. People are very simple and friendly. In the old times San Juan de Oriente was known as San Juan de los Platos because of the ceramic dishes produced there and commercialized in many other cities. This excursion provides the opportunity to meet and talk to local artists and artisans, talk to local people and see the production of pottery and handicrafts. Lot of ceramic and handicraft stores are located in the main street.
---
Catarina town and El Mirador de Catarina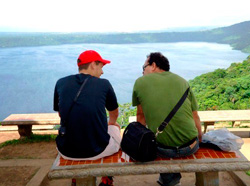 Catarina is a picturesque village in the province of Masaya inhabited by laborious people. The town is located very close to San Juan de Oriente. Beautiful bamboo handicrafts are made here by magic hands. Catarina is popular because of these handicrafts and the beautiful gardens and nursery plants along the streets. People from many other cities come to Catarina to buy ornamental plants and flowers. Catarina has the most beautiful lookout in the area known as El Mirador de Catarina from where spectacular views can be enjoyed. Granada city, Apoyo Lake, Cocibolca Lake and Mombacho Volcano can be seen from this Mirador.
---
El Coyotepe Old Fort in Masaya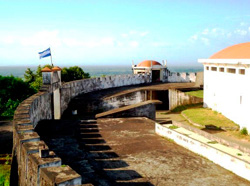 Built in 1893 by president Zelaya, El Coyotepe is an old fort full of history. The fort is situated on top of a hill in the outside of Masaya city and along the Pan-American road. Most of Masaya downtown can be seen from the top of the hill where the Fort is located. The fort was built with military purposes in the eighteen century and was used through the years for decades and decades alternately as a military base and prison by the governments in turn. At the present El Coyotepe is a live interesting museum managed by the Movement of Scouts of Nicaragua. Masaya volcano, Laguna de Masaya, Mombacho volcano, Lake Nicaragua and Lake Managua can be seen from El Coyotepe old fortress.
---
Nandasmo town and Mirador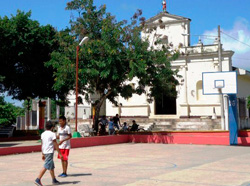 Nandasmo is located in the province of Masaya very close to Laguna de Masaya. At some minutes from town, there is beautiful look out with fantastic views of Laguna de Masaya, the Santiago Volcano, and green hills around. At the Mirador there are handicrafts stores, a restaurant and a swimming pool. In Nandasmo town there are many handicrafts workshops where wooden furniture and leather crafts are produced. The miniature handicrafts are very popular in town. Nandasmo religious celebrations take place in January from the fourteenth to twenty second.
---
Niquinohomo town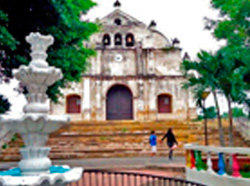 Niquinohomo is a small town located in the Meseta de los Pueblos surrounded by cool fields in the province of Masaya. The central park which is located across from the Church is very quiet. People sit at the park to talk and relax in the afternoons. The church is a sample of antique and is one of the oldest in Nicaragua dating back to early colonial times. The religious festivities, in honor of Santa Ana, are held on July twenty-fifth and twenty-sixth, with processions, parties and traditional dances. Niquinohomo is also popular for being the birthplace of Augusto C. Sandino, the Nicaraguan national hero.
---
Mirador de Diriomito in Laguna de Apoyo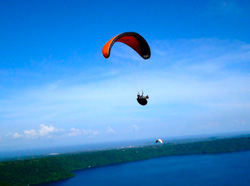 Diriomito is a very small rural village located in the rim of the crater of Laguna de Apoyo. In this place there is an old tall tree known as Ceibo and it said that this huge tree in the village dates back to those old times when the first Spaniard conquers came to Nicaragua. Diriomito has a lookout known as Mirador de Diriomito where there are two nice restaurants and there is a field from where Paragliders launch themselves and fly over the beautiful Laguna de Apoyo. The view from Diriomito viewpoint is spectacular.
---
La Merced church in Granada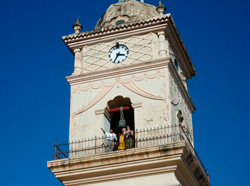 La Merced church was originally built in 1539. It was sacked and burned by pirate Henry Morgan in 1670. It suffered massive destruction in the civil war of 1854 and was demolished by fire in the National War.  The church was restored in 1862. It is located a few blocks from the Central Park in downtown Granada. Panoramic views of the city, Lake Nicaragua with the islets, the Zapatera Island and the Mombacho Volcano are fantastic from the bell tower of the church. The Iglesia La Merced is a lovely example of Colonial and Baroque styled architecture in Granada.