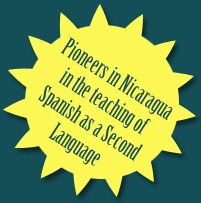 "Raul is an
excellent Spanish teacher
capable of adapting to the needs of the student, whether the basics for a beginner, or more advanced lessons for those with experience. His style of teaching is relaxed and friendly, yet structured in a manner conducive to understanding practical,
usable Spanish.
He was not only my instructor, but became my good friend. I highly recommend learning Spanish from Raul."
- Frederick Rossie (USA)
"I lived and worked in
Managua
and took
Spanish lessons
from Maria Elena and Raul for several months in 2001. I highly recommend them as teachers. They have very good technique and materials, are intelligent people, and are very pleasant to have as teachers. In fact, I had Spanish lessons from many teachers in Guatemala and El Salvador, and Maria Elena and Raul were the best teachers I had in
Central America
."
- Mark Johnson (USA)
mrmarkjohnson@hotmail.com
"I had the pleasure of taking
Spanish lessons in Granada
in my
study abroad
program with my University in the spring semester of 2004. I came away from those classes with not only having a much stronger grasp on speaking and understanding the language, but I was also able to relate to and interact with the people better than I ever thought I would. I was able to use my Spanish knowledge to get accepted into a volunteer program in Mexico the next year at the Don Bosco foundation."
- Keith Slininger (USA)
keslininger@hotmail.com