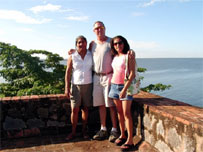 The host families we choose to work with have been personally interviewed by our staff and they will kindly welcome you in their homes. They have not only their door homes opened to international Spanish language students but their hearts. Our lodging family program offers hospitable staying in a clean private room provided with a fan; shared bathroom with the host family; all the meals included. Personal clothes laundry is arrangeable with the host family as an additional service. Staying with a host family gives the students the opportunity to practice the Spanish language through interaction while learning about the local culture. Students living with our host families become part of them and are seen as a new family member.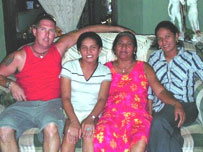 Hospitality and interaction are the keys of the Nicaraguan Spanish Lessons lodging program. Families share time and social activities, making the students feel as part of the family. Some have young children and teenagers, which could make the staying more fun. Most of the families are catholic but do not mind hosting someone of a different religion or set of beliefs. Honesty, sincerity, good sense of humor, friendly and hard-working is part of the characteristics of our host families. Nice and kind, families are always eager to host students of any age from all over the world.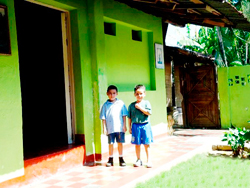 Since 2006, international Spanish language students have stayed with these host families who have gained experienced in hosting and cooking even better. Some of them have made substantial investments to improve the conditions of the rooms and the ambience of the houses to give students more comfort. Nice ambience, cleanness, good service and friendship can be found in every of our Granada families. People from Holland, Austria, Canada, United States, Switzerland, Sweden, Germany, Denmark, Finland, Australia, France, India, Croatia, Russia, Slovenia, Brazil, Norway and the United Kingdom have been hosted by these nice families and have returned to their home countries bringing with them these nice memories of their staying in Granada.