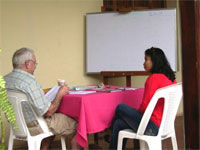 The methodology used in the Spanish lessons (Nicaragua Spanish Schools), consists of teaching Spanish in a natural way. Emphasis is placed on speaking the language and learning the grammar structure and the contextual vocabulary through conversation. Classes are a mixture of grammar and conversation adapted to the student's level. This conversation involves the student in topics of daily life, conducted by the teacher as the facilitator. Contextual vocabulary is studied in each session. A grammar topic is studied each day or every other day depends on the student learning process pace. Structure explanation, grammar pattern analysis, oral and written practice are steps in the regular sessions. Daily homework is assigned.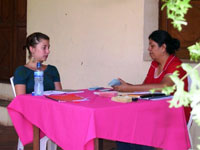 The Spanish classes at the school are conversational, flexible and adaptive to the student's interests and needs. The role of the teacher is to be a facilitator. Interaction is quite an important fact that leads our students towards the fast learning and command of the Spanish language.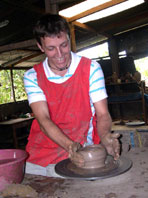 Class techniques include the use of varied materials such as graphics, flash cards, storybooks, vocabulary cards, and pronunciation exercises and most importantly, the real atmosphere and culture that surround the students and the class.

The lessons provide the students with the opportunity to speak Spanish, reducing the TTT (Teacher Talking Time) and increasing the STT (Student Talking Time). This way the students can develop their oral skills and be able to practice the language in class. Besides this practice in class, the students have the opportunity to be exposed to more communicative real contexts outside of the classroom; either with the host family or people in the street and places visited during school activities.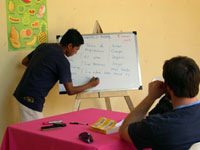 Learning a foreign language in a small class size has a successful impact in the learning process, one of the main reasons we place four students as maximum in a group class. Even though we theoretically say our groups are this big, most of the time classes are taught one-one-one due to logistic facts. A great benefit to the students! The classes include a wealth of information on places of interest in the country. The lessons, handouts and workbooks are very informative and designed in such a way to help the students familiarize themselves with the natural use of the language and with the geography, traditions, expressions and culture of the country and the rest of Central America.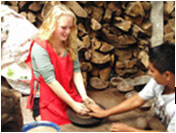 The spanish classes are scheduled for 4 hours in the morning, with half an hour break, Monday to Friday. All minimum programs are scheduled for one week, except the Spanish and Ceramic course which starts with a minimum of two weeks. The week-long programs begin on Sunday and end on Saturday, but can be adjusted to the students schedule and start any day throughout the year.